As an entrepreneur, business owner, marketer, or copywriter, you know the importance of content. It's one of the best ways to connect with your audience and build a relationship of trust. But creating quality content can be time-consuming and challenging. That's where AI writing assistants come in.
Many AI writing assistants are available today, but not all are created equal. So how do you choose the best one for your needs? In this blog post, I'll provide an in-depth review of the six top AI content generators available today. Then, I'll give you a breakdown of each application's features and help you decide which one is right for you.
As an experienced marketer with an MBA in marketing and certification in AI for business, I have tons of knowledge to share regarding the best AI content generators on the market. In addition to extensively researching and learning about AI, I have spent hours upon hours personally learning and testing each AI writing tool. So if you're looking for the best AI content generator, you've come to the right place!
If you want to learn more about AI writing assistants and how they can help improve your business, check out my article, Ultimate Guide to AI Content Generators: What They Are, How to Get Started, and Why You Should Use Them.
Great for direct response copywriting
Lots of prebuilt templates
Engaging video tutorials
Excellent value
Easy to use
Good selection of templates
Quality AI content
Live training
AI image generator included
SEMrush integration
Low cost
33% annual discount
#1. Jasper – Best Overall AI Writing Software
There's no shortage of content generators on the market. But when it comes to quality, Jasper is in a league of its own. First and foremost, it's incredibly easy to use. Whether you're a beginner or a seasoned pro, you can generate high-quality content in just a few minutes. And unlike some of its competitors, Jasper is designed explicitly for direct-response copywriting. That means you can use it to create emails, landing pages, and even ads that convert. But don't just take my word for it. Jasper has an active user base of over 70,000 people. And if you need any help getting started, there are plenty of tutorial videos and resources available. Finally, Jasper is the most well-funded content generator on the market. They recently raised $125M from investors and have a valuation of $1.5B. That gives them the financial stability to innovate and stick around long-term. So if you're looking for the best AI content generator, Jasper is a clear choice.
My Experience Using Jasper AI Writer
Jasper is the best AI writing software out there, bar none. I've been using it for under a year, which has completely changed how I produce content. Once you get the hang of Jasper, it's straightforward to use. It's also the most flexible of the AI writing tools I've used, with a wide range of templates that you can use to produce copy for just about anything. In my experience, Jasper produces the highest quality content of any AI writing writer on the market. So if you're looking for an AI content generator to help you create snarky copy like Ryan Reynolds, look no further than Jasper.
Key Features and Benefits of Jasper AI Writing Software
Direct-response copywriting templates that help you convert more leads and sales.
Don't struggle with copy that never seems to work – spend more time running your business.
Offers flexible ways to create content. Use their templates, prompt Jasper freestyle, or combine both.
Use Jasper's long-form and short-form templates for creating social media posts, blog posts, creative stories, video scripts, ads, and more.
Integrates with Surfer SEO, you can optimize your content to get ranked highly on Google.
Create awesome AI images with the Jasper Art add-on.
Maintain brand consistency by setting the tone of voice for your content. Not only can you use a descriptor, but you can also use the name of a famous person to emulate their tone.
Pros and Cons of Jasper
Pros
Active FB Group. Over 69,000 members provide tips and help using Jasper.
Innovative. Jasper is constantly launching new features that integrate well within the Jasper system.
Tutorials and training. Jasper has the most comprehensive video tutorials on their YouTube channel that will make you a Jasper expert in no time.
Offer a new Chrome plugin so you can use Jasper on the go.
Cons
They are pricer than many of the AI writers on this list, but they offer the best value.
Jasper Pricing Plans
Jasper offers two main plans and a custom plan for large businesses. The main differences are the quantity of AI-generated words per month and access to features.
The Jasper Starter plan begins at $29 per month.
The Jasper Boss Mode plan starts at $59 per month.
Save 17% when paying annually.
5-day money-back guarantee.
I recommend the Boss Mode plan, the plan I personally use because it gives you access to more advanced tools such as the Doc Editor and Compose and Commands features. I utilize these heavily when I create content.
#2. Copy.ai – AI Writing Tools Best Value
Copy.ai is a solid AI content generator. The interface is intuitive, and the results are high-quality. In addition, Copy.ai offers a variety of prebuilt templates and tools that make it easy to produce AI-generated content for a wide range of use cases. Overall, I'm impressed with Copy.ai and recommend it to anyone looking for a content generation solution.
My Experience Using Copy.ai Ai Writer
I found the Copy.ai video tutorials extremely helpful in preparing for my review. I watched all the videos on their Getting Started with Copy.ai YouTube playlist. The videos are well-made and provide a lot of detail on how to best use the tool. I also appreciated the live demo I attended; it was very informative and allowed me to ask questions directly to the team. Overall, I felt I was prepared to test Copy.ai, thanks to the resources provided by the team.
Copy.ai is an AI content generation platform that is both easy to use and produces high-quality content. I was impressed by how quickly Copy.ai generated the first draft of my blog post and the quality of the AI writing. I also created ad copy using their templates and tested the Freestyle tool and the Bullet Point to Blog template. Overall, I am impressed with Copy.ai and recommend it to anyone looking for an effortless way to generate quality content.
Key Features and Benefits of Copy.ai
A sound library of ready-made long-form and short-form templates to help you create all kinds of content.
Ability to create custom templates for your specific workflow.
The freestyle tool enables you to get started and expand on content.
Pros and Cons of Copy.ai
Pros
Great overall value.
Easy-to-use.
Quality AI writing.
Great training videos and live demos are offered to get you started.
Simple pricing structure.
Free plan for up to 2,000 AI words per month.
Cons
Some recent reports by customers of issues with the Copy.ai system being down. I didn't personally experience any problems.
Pricing Plans
I really like the simplicity of Copy.ai's pricing. Outside of the Free plan, which is limited, there is one plan – the Pro plan. The only variable is how many monthly AI words you would like to be able to generate.
The Pro plan starts at $49 per month.
Get 3 months free when paying annually.
#3. Writesonic – Best Jasper Clone
My Experience Using Writesonic Ai Writer
I found Writesonic to be a good AI content generator overall. However, I ran into some errors and inconsistencies while using it. In my opinion, Writesonic needs UI improvements. I was thoroughly confused by the pricing model. The tutorial was fairly basic and primarily text-based. However, they offer a limited selection of helpful videos on their YouTube channel. Overall it's a good, not great, AI content generator.
Key Features and Benefits of Writesonic AI Writer
Includes Photosonic AI image generator. Rather than offering it as an add-on, it uses your allotted monthly AI credits. Generating an image consisting of 2 variations takes 100 Premium AI word credits.
SEMrush integration.
WordPress export.
Pros and Cons of Writesonic
Pros
AI image generator included.
A free AI content generator plan is available to try out Writesonic.
Good quality AI content.
Good selection of templates.
Low price point, starting at $19 per month.
Big discount when paying annually – 33%.
Cons
Needs UI and UX improvements.
No tone of voice option.
Unnecessarily complicated pricing model.
Mediocre tutorials are mostly text-based, although they have a few videos on their YouTube page.
Writesonic copied Jasper's branding. Since I'm a marketer, it gives me pause to see a competitor copy, precisely, the industry leader.
Writesonic seems to want to be a Jasper clone instead of creating its own unique AI writing software.
Pricing Plans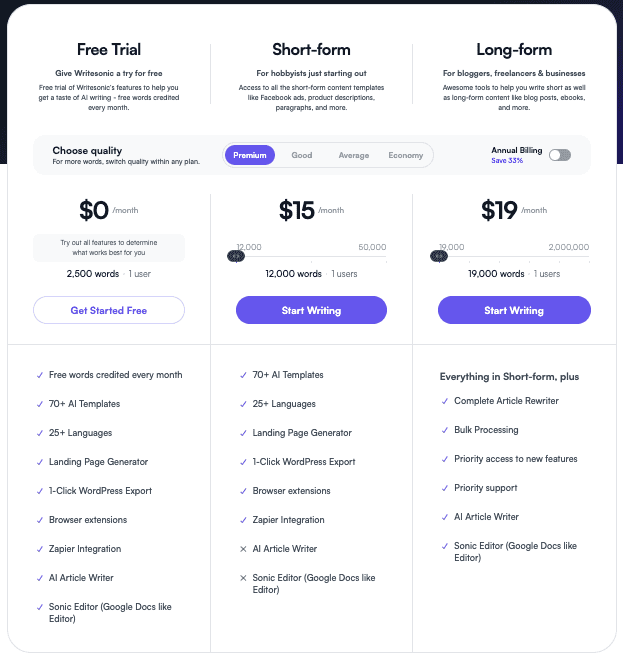 Writesonic's pricing structure is a clusterf**k. When your pricing is so complex that you must create an explainer video, it's a sign that you don't understand the basic principles of marketing. Ugh. Writesonic appears to have developed a pricing plan that's all things to all people, meaning they have no idea who their target market is or how to segment their audiences.
Perhaps Writesonic should create an AI app to help you decipher their enigmatic pricing and help you select the best plan. Until they do, I'll provide some clarification.
To select a plan, you need to decide what type of content you'll be writing, what AI output quality you'll be satisfied with, and how many AI words you'll want to produce per month. To be more specific, you need to answer the following questions:
Do you only want to write short-form content? E.g., ads and product descriptions.
Do you want access to long-form content templates so that you can create blog posts, emails, etc.?
What kind of quality output do you want? Are you okay with sh*tty, unformatted AI content? Then Economy quality is for you. You'll want to stick with Premium quality to produce high-quality, readable content. For some insane reason, they offer four different levels of quality.
How many AI words do you want to be able to produce per month?
To simplify things, I only recommend the Long-form plan with Premium quality AI output. This plan combo makes it comparable to other AI writers on this list.
The Long-form Premium plan starts at $19 per month.
Writesonic offers a huge 33% discount when paying annually.
#4. Rytr – Cheapest of the AI Content Generators
Rytr was acquired along with Frase by Copysmith in October 2022. For now, Rytr remains a standalone product and is being positioned by Copysmith as an "AI content writer for individuals and small businesses."
My Experience Using Rytr
Rytr was different from what I anticipated. While the quality of the content it produced was decent, I used too many AI credits to get there, and even then, Rytr's free AI content generator plan didn't offer enough credits for a short blog post. Also, its tutorials need to be improved; more resources and videos are required to help onboard new customers. Consequently, I was disappointed with my experience because Rytr's AI writing assistant provided nothing better or different than its competitors.
Key Features and Benefits of Rytr
While using Rytr, I found nothing that it did differently or better than the other AI content generators on this list.
Pros and Cons of Rytr
Pros
Supports writing in over 30 languages.
Integrates with SEMrush.
Chrome plugin.
Low-cost solution.
AI image generator included.
Cons
The limited free plan doesn't offer enough AI credits to test Rytr thoroughly.
No team plans; each plan only offers one seat. Rytr states they are planning on adding the ability to add multiple users to an account, but no timeframe was listed.
AI image generator was more challenging to prompt than competitors.
Rytr Pricing Plans
Rytr offers three plan levels, with the main distinction being the number of AI characters generated per month. (Please note that Rytr AI credits are per character versus per word.) With paid plans, you can also create your own custom use case.
The Saver plan starts at $9 per month.
Get 2 months free with annual plans.
#5. Frase – Best AI Writer for SEO
Frase is not just an AI writer; it also includes robust SEO tools to help you optimize your content for search engines. Frase is different from the other AI content generator software on this list because it's not powered by OpenAI's machine learning model GPT-3. Instead, Frase utilizes its own proprietary generative AI model, which has pros and cons. The advantage is that Frase is unique and differentiates itself from other players in the AI writing space. The downside is that they don't take advantage of the millions of dollars invested in training GPT-3. Frase may also be at a disadvantage when OpenAI's next-generation model, GPT-4 is launched. GPT-4 is anticipated to be available sometime in 2023 and is predicted to be lightyears ahead of GPT-3. For more information on how AI content generators work, see my Ultimate Guide to AI Writers.
As I mentioned in the Rytr overview, Frase and Rytr were acquired by Copysmith in October 2022. However, Frase also remains a standalone product, differentiated from Ryter as a way to "craft better SEO content."
My Experience Using Frase
I was excited to try out Frase after watching all the tutorial videos. With a well-done interface and easy onboarding. With the AI writing features and the SEO on-page optimization features similar to those found in Surfer SEO, it initially seems this new software could replace my current AI content and SEO stack – Jasper and Surfer SEO.
The content quality Frase produces could be more consistent. It went off on unrelated tangents more than the other AI writing assistants. For example, when I was trying to recreate my email marketing Moosend review blog post, Frase kept writing about Mailchimp rather than Moosend, even though I only entered information about Moosend. This also happened with other topics I tested. Furthermore, Frase produced more random off-topic content than the other AI writers. This is probably because they use their own AI engine. Due to the inconsistent AI content quality, I won't be making the switch from Jasper and Surfer SEO.

Key Features and Benefits of Frase.io
Includes robust SEO tools that are integrated into the Frase content creation workflow.
It helps you create an outline for your content.
Generates an automated content brief you can share with other team members.
All-in-one workflow.
Optimize existing content.
Pros and Cons of Frase
Pros
Produces quality content (but not consistently).
Great for marketing teams. The workflow makes it easy to involve multiple team members, such as copywriters and SEO experts.
You don't need a separate SEO content optimization tool such as Surfer SEO.
Cons
Inconsistent content quality.
Generated content was sometimes completely off-topic.
Requires the Pro Add-on to get access to some advanced features.
Frase Pricing Plans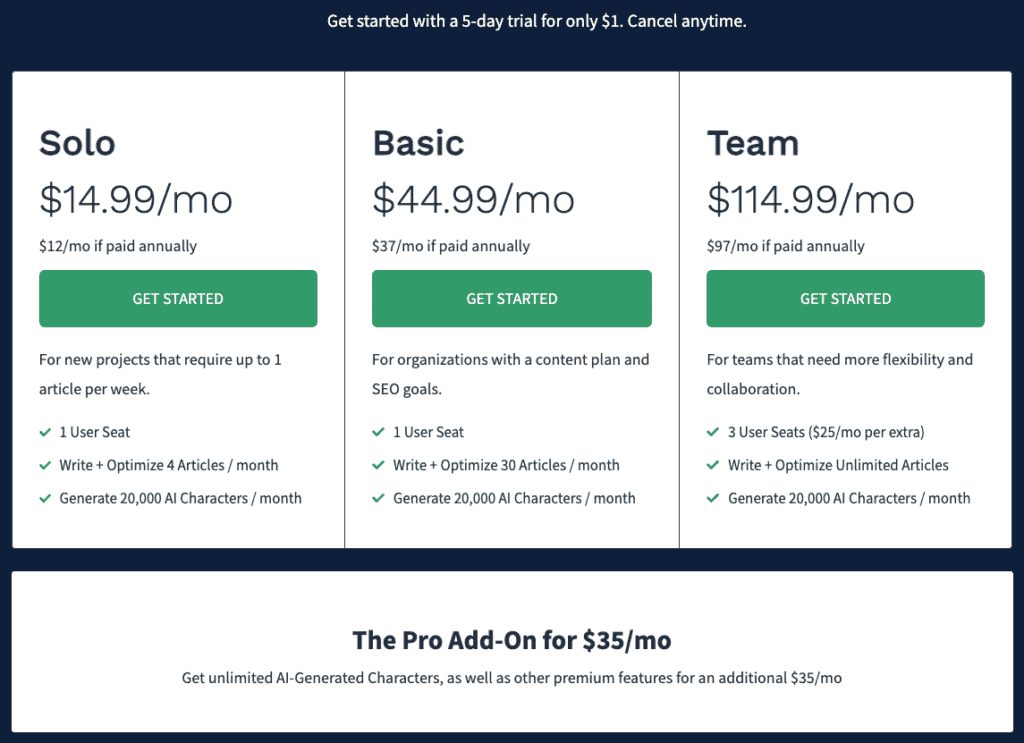 Frase offers three plans with an optional add-on. The main difference between the plans is how many articles and AI characters you would like to produce per month. Additionally, the Team plan allows you to add additional users to your account.
Plans start at $14.99 per month.
The Pro Add-on, which can be added to any plan, it includes unlimited AI characters and premium SEO features. I recommend this add-on to get the most out of Frase.
Frase provides a 15% discount for annual billing.
Similar to Frase, Outranking combines AI writing with AI search engine optimization.
My Experience Using Outranking
I had been using Outranking for almost a year, but I recently stopped and am exclusively using Jasper. The main reason is that they release new versions of Outranking at such a rapid pace it became exceedingly difficult to use. I don't want to relearn how to use a program every month after a major release. Each iteration seemed less intuitive than before. Sometimes innovation can be good if done correctly (think Apple); however, here's where things went wrong: they pushed major releases without documentation or tutorials, often confusing users due to the new interface and workflow changes.
I found the current version very cumbersome and time-consuming to use. Overall, I found Outranking an unreliable product due to its lack of stability and consistency.
If you are looking for an AI writing assistant that includes SEO features, I recommend using Jasper in combination with Surfer SEO or Frase over Outranking.
Key Features and Benefits of Outranking
Includes SEO and AI content generation features.
Outranking performs some factual research.
Pros and Cons of Outranking
Pros
Cons
Content quality is just okay.
Not flexible; it has a fixed workflow that only works for some common scenarios.
Outranking attempts to do a lot but fails to do anything exceptionally well.
Expensive.
Too many significant product changes.
Not enough tutorials or documentation for the current version.
Outranking Pricing Plans
Outranking offers three plan levels, with the main differences being how many SEO-optimized articles you would like to produce per month and how many team members you want to add per account.
The Solo plan starts at $79 per month.
An optional add-on for keyword strategy and clustering can be added to any plan for an extra $79 per month.
30 % discount with annual payments.
Great for direct response copywriting
Lots of prebuilt templates
Engaging video tutorials
Excellent value
Easy to use
Good selection of templates
Quality AI content
Live training
AI image generator included
SEMrush integration
Low cost
33% annual discount
Do you have more questions about AI content generators and how they work? Read my article Ultimate Guide to AI Content Generators: What They Are, How to Get Started, and Why You Should Use Them.