Email marketing is a great way to stay in touch with your customers and promote your business. But with so many email marketing services to choose from, it can be challenging to know which one is right for your business. Most email marketing platforms offer similar features, such as creating and sending newsletters, automating email marketing campaigns, and tracking results. So how do you choose the right email marketing automation platform for your business? I've done the research for you and compiled my review of Moosend, which is easy to use and offers rich features for businesses of all sizes. And its marketing automation features make it easy to create and send email campaigns tailored to your individual customers. So if you're looking for an email marketing tool that is simple to use and feature-rich, Moosend is an excellent option for your business.
What is Moosend Email Marketing Software?
Moosend is an email marketing platform that enables businesses to create, send, and track email campaigns. The platform offers a variety of features, including email templates, a drag-and-drop email builder, A/B testing, a landing page builder, and more. Moosend also provides users with reports and analytics so that they can track the performance of their campaigns. In addition to email marketing, Moosend also offers marketing automation features. Including the ability to send automated emails based on triggers, as well as the ability to segment contacts and create workflows. Overall, Moosend is a comprehensive email marketing platform that can help businesses to grow their customer base and increase sales.
Moosend is a tried-and-true email marketing solution poised to continue its growth. They are a growing tech company based out of London in the U.K. Recently they were purchased by Sitecore, a large CMS tech company, as part of Sitecore's $1.2 billion growth plan. Based on this, I would say Moosend is a company you can rely on to be around for the long term.
Popular Software Review Sites – Moosend Ratings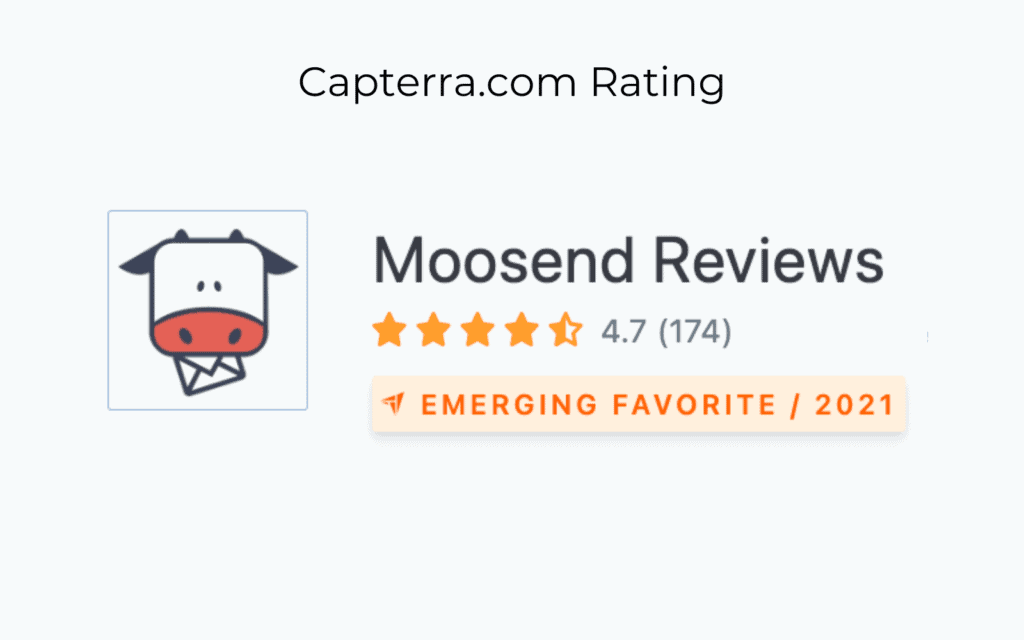 My Review of Moosend
Pros and Cons of Moosend Email Marketing Service
Pros of Using Moosend for Your Email Marketing Campaigns
Email marketing is one of the most effective ways to reach customers and clients, but it can be tough to get started. Moosend makes it easy with a simple, intuitive interface that makes email marketing a breeze. With easy-to-use tools and a WordPress integration, Moosend is the perfect solution for anyone looking to take their email marketing to the next level. And with affordable pricing starting at just $9 per month, Moosend is a great value compared to other email marketing software.
The most common pros mentioned in Moosend customer reviews:
Easy to use, simple, intuitive user interface
Easy to set up
Higher open rates than competitors
Send unlimited emails
Efficient, you can do things quickly
The landing page builder is easy to use
WordPress plugins for easy integration
Affordable compared to competitors
Better than competitors such as Mailchimp, Sendinblue
Beautifully designed templates
Great customer service
Affiliate marketing friendly
Cons of Moosend Email Marketing Platform
I'm an optimistic person, always looking for the good in everything. But as they say, even the best things in life have a downside. Although, after pouring over hundreds of customer reviews, I was surprised to find relatively few negatives.
The most common cons mentioned in Moosend customer reviews:
Landing page builder, although easy to use, it lacks some features of more advanced builders
Moosend WordPress form plugin is outdated
Nicely designed templates but limited in selection
No Moosend mobile app
The free trial doesn't include every element of paid plans
Best Features of Moosend Email Marketing Service
Level Up With Professionally Designed Email Templates
Moosend's email templates are designed to help you take your newsletters to the next level. With over 70 email templates to choose from, you can easily find a style that fits your brand and message. And because professional graphic designers create them, you can be sure that your newsletters will look amazing.
Easily Design Emails With the Drag-and-Drop Editor
Are you tired of your emails appearing as a middle schooler designed them? Well, your days of subpar email design are behind you! With Moosend's drag-and-drop email editor, you can easily create beautiful emails that look like they were designed by a professional. Then, you can add images, videos, text, and more with just a few clicks.
Be Efficient With Email Marketing Automation Workflows
Email marketing automation is a powerful tool that can help businesses of all sizes to improve their marketing campaigns and boost ROI based on specific trigger events. Moosend offers a powerful marketing automation feature that can be used to put your campaigns on autopilot, including out-of-the-box marketing automation templates and the ability to create your own custom flows.
For example, a customer might receive an email 24 hours after they sign up to a website, thanking them for their interest and offering them a discount on their first purchase. Or, a customer might receive an email three days after they abandon their shopping cart, reminding them of the items they were interested in and offering them a 10% discount. Moosend's marketing automation workflows can save businesses time and money while ensuring that customers stay engaged with the brand.
Improve Customer Experience With Tracking and Reporting Analytics
Analytics are important, but at the end of the day, what matters is how customers interact with your website or ecommerce store. Tracking helps you truly understand your customers with the power of behavioral analytics that captures and analyzes how they interact with your site. For example, reporting allows you to view open rates, click-through rates, bounce rates, forwards, and unsubscribes. With this valuable data, you can continue to improve the customer experience and drive more sales.
Convert More With Moosend's Landing Page Builder
Max out your conversions with Moosend's Landing Page Builder feature. The drag-and-drop builder helps you to create landing pages that convert easily. It includes about 20 predesigned landing page templates to choose from, so you can find the perfect look for your brand. Plus, it's easy to customize each page to make it your own.
Jackup Your Conversion Rates With A/B Testing
A/B split testing is essential for any growth marketer or growth hacker. You can identify which elements are most effective in driving conversions by testing the performance of different aspects of your email campaigns. Moosend's A/B split testing feature makes it easy to test various elements of your emails to get the most out of your campaigns. With Moosend, you can try out different subject lines, images, and even email designs to see what works best for your audience.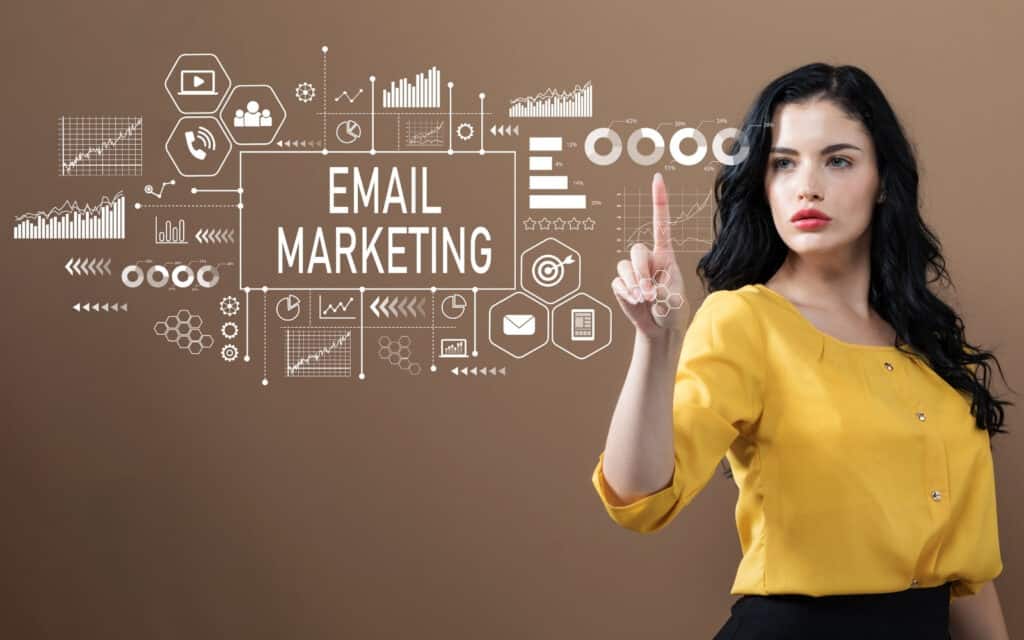 Send the Right Message to the Right Customer With List Segmentation
We all know that the customer is always right. But what about when you have more than one type of customer? You can't just give them all the same treatment and expect them to be happy – that's where Moosend's customer list segmentation feature comes in. With this amazing tool, you can easily segment your customer lists by differentiators, such as customers who've purchased and prospects who haven't purchased. You can even get more granular by segmenting customers based on the type of product they've bought or where they live. This way, you can give each customer the personalized treatment they deserve, and you'll be sure to keep them returning for more.
Improve Conversions and ROI With Ecommerce AI
You're probably wondering how you can make your email marketing more efficient. Well, Moosend's AI for ecommerce does just that. It includes automated cart abandonment emails, product recommendations, and shoppable emails that allow customers to buy with a click from an email. Not only will this save you time, but it will also increase your sales and conversion rates.
Build Your Email List With Subscription Forms
Do you want to build your email list? Moosend has you covered. They offer a variety of subscription forms, so you can customize your forms to attract your visitor's attention and encourage them to sign up for your email list. Plus, their gamified subscription form is a fun way for visitors to enter their email addresses and save money on your site's offerings.
Moosend subscription form options:
Classic pop-up form
On-page inline form that can be placed on any page of your site
Floating bar form that you can position at the top or bottom of your site
Floating box form that's similar to a pop-up except that it stays on the page while your visitors scroll down the page
Full page form that your site visitors can't miss
Gamification form that incentives visitors to join your email list to take a spin of the wheel for a chance at a discount or special offer
Integrate With Your Other Marketing Tools
Moosend's integration feature is top-notch. They offer integrations for over 80 different apps. And Zapier's integration allows you to connect with over 1,000 different apps to get the most out of your Moosend account. So whether you need to connect to your CRM or ecommerce platform or want to automate your workflow, Moosend has you covered.
Popular Software Apps Moosend Integrates With
Zapier
Woocommerce
Salesforce
ActiveCampaign
WordPress
Elementor
Convertbox
Facebook Lead Ads
Moosend Pricing – What Does the Moosend Email Marketing Tool Cost?
When it comes to email marketing services, I've tried most of them throughout my 20+ year marketing career. From MailChimp to Constant Contact, you name it; I've used it. But I must say, Moosend is one the best damn email marketing services available. It offers a free 30-day trial and is competitively priced and affordable, starting at $9 monthly ($7 if you pay annually). And with all of its unique features, it's a fantastic value. So if you're looking for an email marketing service that will give you the best bang for your buck, Moosend is the way to go.